Meurs in West Germany by Covens & Mortier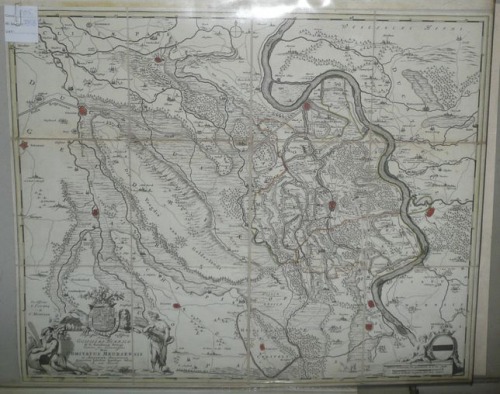 Ask for this product
805 PLN
Illuʃtriʃʃimo Celʃiʃʃmoq3 Principi GUILJELMO HENRICO D.G. Arauſionum Principi Domino ʃuo Clementiʃʃmo Hanc COMITATUS MEURSENSIS et Anexarum Dinastiarum Accuratam Tabulam humillime Offert A. van Heurdt.
Above the cartouche, on the left side, publisher's note: Ex Officina I.COVENS & C. MORTIER.
Map of surroundings of city Moers in Nordrhein-Westphalen, created by Frederick de Wit at the end of XVIIth century. We offer another state/edition published after 1721 by Covens & Mortier.

Original copperplate engraving, original outline color..
Map size: 49,5 x 59,5 cm
Condition: map cut and laid on linen , size of each segment ca 15 x 17 cm), narrow margins.