Leipzig by Schenk / Lotter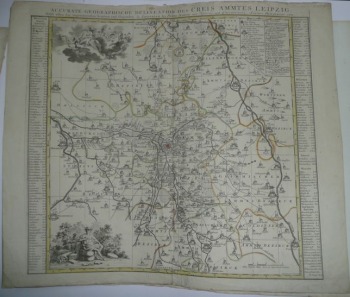 Ask for this product
495 PLN
ACCURATE GEOGRAPHISCHE DELINEATION DES CREIS AMMTES LEIPZIG, Nebsſt allen angrentzenden Aemtern und Gegenden. In AMSTERDAM bey PETER SCHENK mit KÖNIGL. und CHURFURSTL. SÄCHSS. PRIVILEGIO. 1758.
In lower right corner engraver's signature: Tob: Conr. Lotter ʃculps. Aug.V.
Decorative maps of the Leipzig and its surroundings, comes from one of editions of
Atlas Saxonicus Novus
by Peter Schenk Junior, published in Amsterdam and Leipzig ca 1760.
Original copperplate engraving, contemporary handcolor.
Map size : 49,8 x 58 cm .
Condition: litte tear at the bottom, small folds in the middle