Germany by Mercator / Cloppenburgh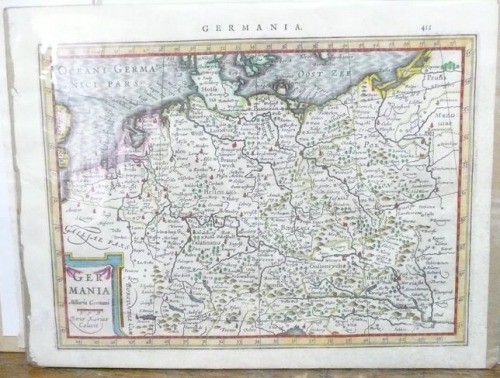 Ask for this product
644 PLN
GERMANIA | Petrus Kaerius Caelvit


Above the map in the middle:
GERMANIA.
Above the map, on the right side, pagination: 413.



Verso: latin text

Map of Germany from an uncommon, slightly larger, newly engraved(usually by P. van der Keere - latinized name Kaerius) edition of Mercator's Atlas Minor titled Atlas sive Cosmogrpahicae Medidaitiones de Fabrica mundi... , published in Amsterdam by Johaness Cloppenburgh, in 1632(just one and only latin edition)

Original copperplate engraving, recently handcoloured, map size:
18,2 x 24,8 cm.
Condition: in some places map area seems to be little rubbed off(esp. the right side), small folds.

Reference: Koeman, Atlantes Neerlandici, 1969, V.II., pos. Me 200.