Bonne R.-Poland and Eastern Europe, ca 1807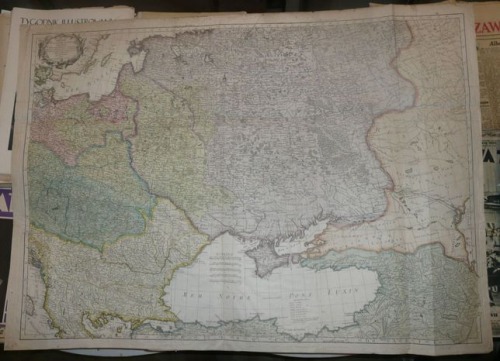 Ask for this product
0 PLN
THEATRE | DE LA GUERRE ACTUELLE, | Comprenant: | la PRUSSE, la POLOGNE, une grande | partie de la RUSSIE & de la TURQUIE | EUROPEENNE et ASIATIQUE jusqu'a | la MER CASPIENNE | ar Mr. BONNE ,|
a Paris. | Chez Treuttel & Würtz Rue de Lille No.17.
Original copperplate engraving, printed from 9 plates, joined together , contemporary handcolor, published ca 1807 .

Uncommon map of Poland (borders show divisions after the 3rd partition ) and the Middle and the Eastern Europe during the Napoleonic Wars era.
Map prepared by Rigobert Bonne, published byTreuttel & Würtz .
This is the 3rd state of the map(known to me), map hasn't been mentioned by any reference book in my possesion, only met it in antiquarian catalogues, auctions or early XIXth century magazines (where it has been advertised)
Map size : 67,5 x 96 cm , on a sheet: 72,7 x 101,2 cm.
Condition: relativley good for a map of this size and printed from many plates: foxing, visible especially on margins and uncoloured areas, folds (2 horizontal and 4 vertical), at joints of folds small defects(one larger tear, besides smaller "pin" holes), small folds, creases(seem lie paper got little wet and then dried out) , cracks on margins.
Price upon request.