!1989 Solidarność-Sarnecki T. W Samo Południe,original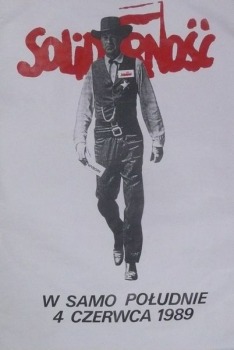 Ask for this product
0 PLN
SOLIDARNOŚĆ
W SAMO POŁUDNIE | 4 CZERWCA 1989
(Solidairty, High Noon, June 4th. 1989)
Original, 1st ed. poster by Tomasz Sarnecki. Poster - symbol of a transformation in Poland. Prepared for the first /partially/ free elections in Poland to support "Solidarity" movement, bringing end to communism in Poland.
In 1999 selected by Victoria & Albert Museum in London
as one of 100 most influential posters of the XXth century

Offset, size 100 x 69,8 cm.
Good condition, some creases/dents, as could be expected from rolled paper.
Price upon request